How to Build a Forest is a polysynthetic, interdisciplinary hybrid of a project. Part visual art installation and part theater performance, this durational event unfolds over eight hours.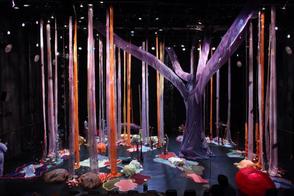 Beginning in an empty space, visual artist Shawn Hall and theater/performance artists Katie Pearl and Lisa D'Amour—along with a four-person crew—work meticulously to construct, dismantle, and remove an elaborately fabricated forest. Inspired by 100 trees lost at a Louisiana family home following Hurricane Katrina, How to Build a Forest is also strongly informed by the ecological consequences of the 2010 BP oil spill in the Gulf of Mexico.

Contemporary Art Center
900 Camp Street, New Orleans
There are a number of How to Build a Forest performances and talks!
How to Build a Forest - Friday, October 23 - Thursday, October 29

Forest and Water in Dialogue: Artists and Scientists Contemplate the Gulf Coast, October 27th at 7pm
Panel discussion with How to Build a Forest artists, ecologist Dave Baker, artist Monique Verdin, and coastal geologist Alex Kokler about the current pressing environmental issues facing Louisiana.

Trees Talk: 10 Years of Recovery Research in a Louisiana Bottomland Hardwood Forest 2005-2015, October 28th at 3pm
David Baker, Environmental Curator at A Studio in the Woods, tells the inspiring story of resilience and recovery of the Studio 8-acre forest with scientific research from pre- and post-Katrina. A forest ecologist, Baker studies long term changes to Louisiana's bottomland hardwood forests with a particular emphasis on how hurricanes and invasive species change these ecosystems.

On performance days, audience members can visit the forest at any time during its 8 hour life cycle, viewing it from afar, or up close, or side by side with the builders.
_________________________________________________________________________
A Studio in the Woods is sponsored in part thanks to generous support of the
Max and Victoria Dreyfus Foundation, Eugenie and Joseph Jones Family Foundation, Keller Family Foundation, Lambent Foundation, the New Orleans Theater Association and the Tulane/Xavier Center for Bioenvironmental Research.
Supported by a grant from the Louisiana Division of the Arts, Office of Cultural Development, Department of Culture, Recreation and Tourism in cooperation with the Louisiana State Arts Council as administered by the Arts Council New Orleans. Funding has also been provided by the National Endowment for the Arts, Art Works.