Listening and Singing in Nature with Resident Shay Nichols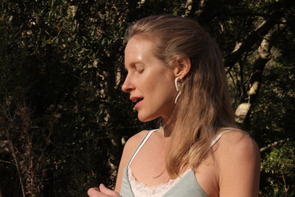 How can singing deepen our connection to the natural world and each other? Listening to the sounds and stillness of nature, we will tune ourselves to the natural environment. How can we listen to nature as music? Using long tones and simple patterns, we will explore the many possibilities of creating spontaneous soundscapes together.


Thursday, October 29th, 9:30-11am
A Studio in the Woods
Click here for map and directions:
MAP
Space is limited, please sign up HERE. This event is primarily geared towards adults, but teens and youth may attend with a guardian. No musical experience required.
* Check out this nice write up from Mary Rickard for Nolavie.com
Deeply inspired by the wisdom of nature,
Shay Nichols
is a recording artist, performer, and teacher. Her first CD "Wildflower," features voice-only compositions born out of her time in natural settings. A graduate of the California Institute of Integral Studies Voice/Sound Healing program and Open Ear Center, Shay loves helping people experience the power of listening and creating music in nature. She is creating the Natural Music Institute, an international organization which fosters collaborations between ecologists and musicians to produce recordings inspired by natural environments. As a part of her Flint and Steel Residency at A Studio in the Woods, Shay is collaborating with
Dr. Thomas Sherry
who specializes in Bird Population Ecology and Conservation Biology at Tulane University.
---
A Studio in the Woods is sponsored in part thanks to generous support of the
Max and Victoria Dreyfus Foundation, Eugenie and Joseph Jones Family Foundation, Keller Family Foundation, Lambent Foundation, the New Orleans Theater Association and the Tulane/Xavier Center for Bioenvironmental Research.
Supported by a grant from the Louisiana Division of the Arts, Office of Cultural Development, Department of Culture, Recreation and Tourism in cooperation with the Louisiana State Arts Council as administered by the Arts Council New Orleans. Funding has also been provided by the National Endowment for the Arts, Art Works.