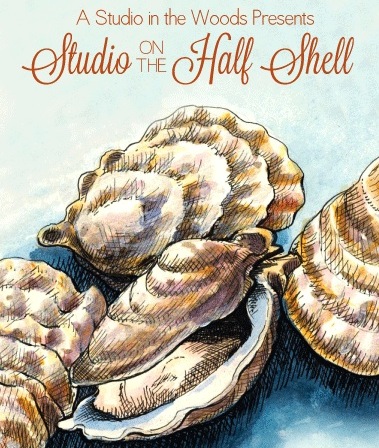 An evening benefiting A Studio in the Woods hosted by Ellen Johnson and Ronnie Swartz in their 1958 modernist home in the historic Lake Vista neighborhood.
Tuesday, April 25th
6:00-9:00

in the evening
Patron tasting and tour at
5:00
Oysters, seafood and more by
Peche Chef Ryan Prewitt
Whet your whistle with a cocktail by
Cane & Table
Current and former resident artists
Byron Asher, Sarah Dahnke, Jackie Ehle Inglefield,
and
Monique Verdin.
Oyster experts
Albert "Rusty" Gaude
from LSU AgCenter/Louisiana Sea Grant Program and
Dr. Deb Abibou
from Coalition to Restore Coastal Louisiana
Music by
Helen Gillet
Silent Auction
with items from Mignon Faget Ltd., Jefferson Performing Arts Society, Wortman Pottery, Boscoli Foods, Cajun Spirits, Rowan Jacobsen, Neal Auction House, Jeremy Sewall & Marion Lear, Sal Sunseri/P&J Oysters, Kit Wohl, and mini masterpieces from former residents and friends of ASITW!
Dress:
Break out of your shell with pearls and seaworthy cocktail attire
Space is limited so purchase your tickets today!
Thanks to our generous sponsors: Bernard & Franks,
Bittersweet Confections,
Susan Brennan, Bronco Wine Company, Lynne Burkart, Catering by Laura Arrowood, Sacha Clay, CURE/Cane & Table, Mary Len & Lou Costa, John Fischbach, Ellen Johnson & Ronnie Swartz, Kevin McCaffrey, MPress, Peche Seafood Grill, Postlewaite & Netterville.